Posts Tagged 'wedding planning'
Author:
Bridezilla
so. word on the street is that kimye is having their wedding at the palace of versailles.
love it or hate it?
i'm gonna have to go with "hate it" on this one…it reeks of "LOOK AT ME, LOOK AT ME!" desperation.
happy hump day!
xx,
bridezilla
Author:
Bridezilla
hashtag: something my mom has said to me a bajillion times. normally, this would be followed with a "whatever mom", but a few months ago when she said to me "you really should work on your posture for the wedding", i had to begrudgingly agree. exhibit a: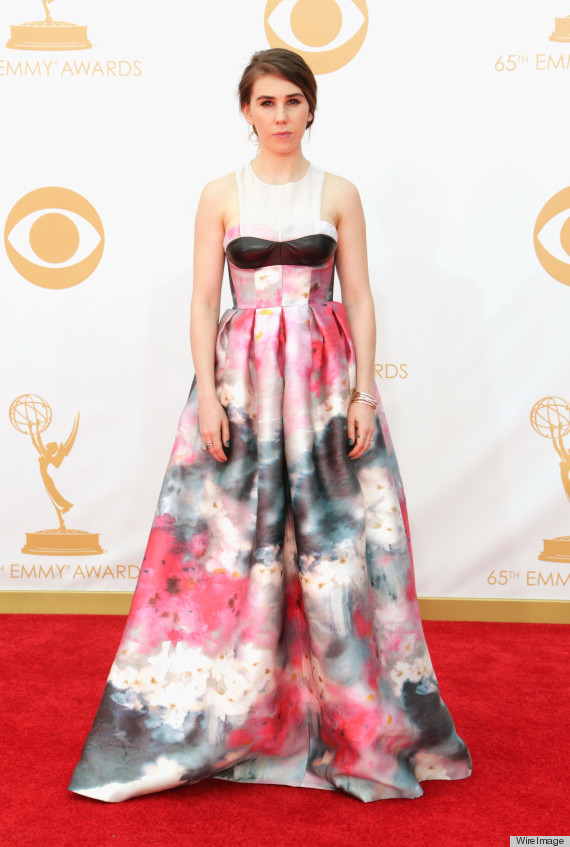 zosia mamet at the emmy awards this year. i might love her dress…i might hate her dress. i'm not really sure, but that's neither here nor there. what i do know for sure, however, is that her slumped over posture and hunched shoulders are doing NOTHING to sell it to me. she looks uncomfortable, unconfident (just made that word up, sue me), and unhappy to be there. and NO ONE wants to look like that on her wedding day. so…
shoulders back, rib cage (and the girls) lifted. this is going to take some work. (at least it will for me, the hunchback of chicago) so how can i become less hunchbacky?
build good posture into your daily routine. if you're a serious creature of habit like myself, pick a certain part of your day to stand up straight…during your walk to/from the train, when primping in front of the mirror every morning, or walking to/from the bathroom.
work on your back muscles. stronger muscles in your back will gradually start to pull your shoulders back from that slumped position.
set an alarm to go off every hour or so at work and then spend the next five minutes sitting up straight. it should start to feel more and more natural.
pick an interval during your time on a cardio machine at the gym to focus on forcing your shoulder blades back and down. i like seconds :20-:00 during my time on the elliptical.
how about you guys? any secrets to perfect posture?
hope you all had an amazeballs thanksgiving weekend, and that monday hasn't been too painful thus far!
xx,
bridezilla
Author:
WGCLaura
Every summer Wedding Guide Chicago teams with it's vendors to create themed photoshoots to provide creative inspiration. This year we designed six amazing such scenes. We will unveil them throughout the upcoming weeks. You can also see them in our magazine and on our website. Enjoy, and know, the inspiration on these pages and in the blog, is done completely by Chicagoland vendors willing to help you make your vision come true!
Classic Romance
Classic Romance is the focus of our first Beautiful Vision Partyscapes. Envisioned by Andrew Parravano of Andrew's Garden, he was inspired by the romance and charm of a visit to Charleston, SC. This warm and classically romantic setting conveys the opulence and timeless esthetic of the grand south with layers of textures and colors. The talented vendors included florals by Andrew's Garden, cake and sweets from Toni Patisserie & Cafe, invitations from Mia Soho, rentals and linens from Classic Party Rentals. Photographed at Hilton Lisle/Naperville by Douglas Rothrock for Timothy Whaley Photographic Artists. View the video of the making of the Partyscape by Ken Plikuhn of Wedding Connections.
Author:
Bridezilla
hey guys,
so sorry for being the worst poster ever lately. like really, the worst. between being super, super, unpleasantly busy and all kindsa sickly, i didn't really have the time or the energy to get any blogging in. just a couple things before i run off to a few meetings:
i went to the circus over the weekend, and it was actually amazeballs. highly recommend.
i'm sick of the snow already.
i think i'm buying a dress this week. EEK. (i'm a dress committment-phobe)
i have NO idea how to choose a photographer.
any advice on that last bullet would be MUCH appreciated! be back (hopefully) tomorrow with a real post!
xx,
bridezilla
Author:
Bridezilla
my mom and i went for round two of dress shopping over the weekend…shops visited, lessons learned, all that nonsense to come in a later post! during one of our stops, the consultant brought me the sherbet lazaro ballgown. a ruched peach-colored sweetheart bodice, with a skirt made up of different colors and layers of tulle. guys. this.gown.is.STUNNING. unfortunately, pictures don't do the gorgeous color justice, buuuut just for reference sake:
 i twirled. and i fell in love. and i twirled some more. i grew so ridiculously infatuated with this beautiful dress that i had a hard time taking it off to leave the store.
flash forward a few days to today…this pesky, naggy feeling that something is just not right keeps pulling at my heartstrings. i tried to will it away and blame it on me being neurotic and a wedding dress commitment-phobe, but all at once, it kind of just dawned on me. i don't think this dress made me feel like a bride. i felt beautiful, but i think it was more of a pretty, pretty princess beautiful than a "this is the dress that i'm going to wear on the most important day of my life" beautiful. what the difference is i'm not quite sure, but it's there, which leads me to the question of:
when does a dress become more than just a beautiful dress?
xx,
bridezilla
Author:
MissSassy
As an alternative to tying the knot in a church or wedding hall, many couples have started a new trend and are now getting engaged and married at events like Warrior Dash, Great Urban Race, and Firefly Music Festival.
During one of the more recent weddings, Danielle, 38, of Connecticut tied the knot with her hubby Mark in the middle of a Red Frog Event muddy festival. Danielle wore a white tutu for the occasion, and then trekked through 12 obstacles including jumping over fire and crawling through a mud put with her new husband.
Danielle and Mark are just one of the many couples who have taken the plunge at Warrior Dash and they are excited to share photos of their story!
A much less muddy, but equally unique wedding took place at this year's Firefly Music Festival. Michelle and her fiance Mark chose to say, "I do" at Red Frog Event's on-site Vineyard and took photos in the Woodlands before the festival, before celebrating with 65,000 other concert-goers.
These are only two of many couples who have been engaged or tied the knot at these events! For more information on weddings and engagements, contact Stephanie Schell at stephanieschell@redfrogevents.com.
Author:
Bridezilla
happy health and fitness friday!
i have an absolutely RAGING sweet tooth. like…it's bad. unfortunately, unless you have the metabolism of a 7 year old (in which case i'm incredibly jealous), in order to look your best on your wedding day, you cannot eat creampuffs and cookies and cupcakes to your heart's content. woe is me. (and my sweet tooth.)
one day, via the facebook, i stumbled upon a recipe for chocolate chip peanut butter "cookies" made from chickpeas. sounds disgusting, i know. typically, i'm not allowed in the kitchen (something about the fire alarm and burning and a towel…i don't really know), but my fiance happened to be out of town that weekend, so i decided to give these suckers a run for their money.
ingredients:
1 1/4 cups canned chickpeas, rinsed and patted dry
2 tsp vanilla extract
1/2 cup and 2 tsp natural peanut butter (must be natural or your non-cookie-cookies will be goopy)
1/4 cup honey
1 tsp baking powder
1/2 cup chocolate chips (not technically "healthy", but they provide some much needed flavor and sweetness)
directions:
1) preheat oven to 350F
2) combine all ingredients except chocolate chips in a food processor and blend until very smooth
3) stir in chocolate chips (or pulse if mixture is too thick to stir)
4) form "dough" into 1 1/2 inch balls and place on a cookie sheet covered with a piece of parchment paper
5) bake for 10 minutes. the non-cookie-cookies will be very soft when removed from the oven – do not be alarmed!
the verdict? they're no mrs. fields but not bad at all. you can definitely tell they're not real cookies but due more so to the consistency than the flavor…definitely a great little pick me up! if you're a peanut butter and chocolate fanatic like i am, i'd highly recommend giving them a try!
have you guys stumbled on any other odd but healthy recipes? anything to satisfy a sweet tooth? do share!
xx,
bridezilla
Author:
Bridezilla
i have about a billion things going on this week, so just a quick hello from me! in honor of today's spooktacular holiday, my favorites from vera wang's fall 2012 black bridal line:
that last one makes my heart palpitate. i actually die over vera wang. happy halloween!
xx,
bridezilla
Author:
Bridezilla
hi guys! sorry for my extended absense…we hosted our annual conference for my job last week, and then the fiance and i jaunted out of town for the weekend to attend a wedding, so bridezilla's been busybusybusy!
my fiance's friend from college got married in a gorgeous old mansion in denver called the grant-humphreys mansion. it was somewhat rustic in theme and had the most beautiful fall colored flowers – deep reds and oranges. the ceremony was outside, and being the space cadet that i am, i forgot to pack a nice coat to wear with my dress, so i was a teensy bit chilly. oops!
anywhoozle. the bride and groom did something really unique as part of their ceremony – they toasted to each other. i've never seen anything like it, but it was super cute and obviously meant something to them as a couple. the celebrant opened a bottle of wine and said "before you all get to toast to them, the bride and groom would like to share their first toast as a couple". they then clinked, drank, and recorked the bottle to share on their tenth anniversary. such a great idea!
being that my ceremony is going to be a somewhat religious affair (it's being held in a catholic church), i'm struggling with how to still manage to make it our own and have it be meaningful to us as a couple. any thoughts or ideas from you brides out there? have you guys struggled with this same issue? le sigh.
xx,
bridezilla
Author:
Bridezilla
hey guys! hope you all had wonderful weekends! since we moved last weekend, this weekend was chock full of new house errands – furniture shopping, bed, bath, and beyond, all that good stuff. things are finally starting to come together though!
on to the task at hand…wedding planning! something i've really been struggling with lately is the rehearsal dinner, specifically the guest list.
option a: we invite only the bridal party and their guests. i think the rehearsal dinner should be a special and intimate time to thank your closest friends and family for their involvement in the biggest day of your lives. keeping it small and exclusive will make them feel truly appreciated. however, it might leave some of your out of town guests feeling left out, especially if they're not particularly familiar with chicago.
option b: we invite the bridal party and their guests and select other out of towners, such as family. this still keeps the number small and the setting intimate, but the speeches and toasts might make the non-bridal partiers uncomfortable. plus, is it totally uncouth to invite some but not all out of towners? if the answer is "not necessarily", how do you go about inviting "some but not all"? custom invitations? is this going to open a "so and so said everyone was invited to the rehearsal dinner so here i am!" can of worms?
option c: invite all guests. this is typically the route my friends have gone in the past, and being an out of towner myself, i've always really appreciated having something definite to do the night before the wedding. however, this is obviously a much more expensive option, and like i said before, your bridal party might end up feeling less special and less appreciated now that everyone and their mother is invited.
option d: keep the rehearsal dinner itself bridal party exclusive, and host a party, such as bowling, for all guests later in the evening. i think this is my favorite option, as it allows for both an intimate dinner and somewhere for the rest of the guests to hang out. however, this is going to be the most pricey option, and, being a pretty major party, i feel like it has the potential to downplay the significance of the wedding itself. my other big beef with this option (and this is probably just me and my total lack of self control) is that, being the first time i will have seen a lot of my friends in a really long time, i'm going to have a very, very hard time not staying out until all hours of the morning gossiping and catching up. no one wants to be a tired, hungover bride.
sigh. i don't know what to do. HEEEEEEEELP!
xx,
bridezilla